Chris Stevens Guitar Instruction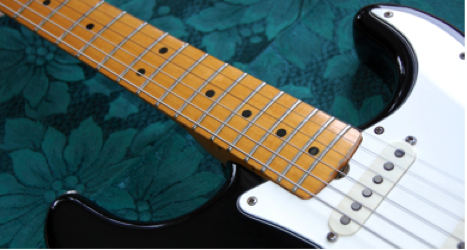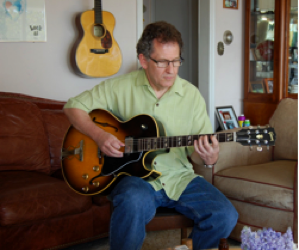 Like so many young people of my generation, I was drawn to the sound of the guitar by the Beatles.  At age 15, after hearing blues guitarist Michael Bloomfield, I was inspired to start taking private lessons in hopes that I could one day play like him.  My first performing experiences came as a member of the Evergreen High Jazz Ensemble.  After graduation, I spent the summer studying with Al Turray, Seattle's most notable jazz guitar teacher at the time.  I still have Al's handwritten book of chord inversions, scales and arpeggios for jazz improvisation which I share with my jazz students to this day.  I went on to major in music and play in the award winning jazz ensemble at Western Washington State College.
My college career was interrupted by two years of military service as guitarist for the 8th US Army Band stationed in Seoul, Korea.  Upon my return to Seattle I worked the rest of my way through college playing in the popular rock cover band Blue Mountain Eagle, and graduated from the University of Washington in 1977 with a degree in Communications.  I continued working in rock groups into the mid 80's, playing a lot of what we now call "classic rock".  My favorite was the Protons, a progressive rock trio that played mostly original material composed primarily by me.
In the early 80's I began my teaching career, offering private lessons in all styles of guitar at my home on Mercer Island.  In time, mostly by word of mouth, I became Mercer Island's "go to" guitar teacher.  Throughout the decade I also taught at the Keith Purvis Drum Shop, Bandstand Music and Guitars Etc.  In 1991 I landed a teaching position at Green River Music in Auburn, and gave lessons there for two decades until my 2012 move to A Sharp Music Studio in Renton where I now teach every Wednesday. 
In 1987 I was introduced to the flourishing Seattle blues scene and jumped in wholeheartedly, learning everything I could from my favorite local blues guitarists and immersing myself in the styles of the great masters like B.B. King, Freddy King, T-Bone Walker and Stevie Ray Vaughan.  Since then I've played most every blues venue in the Northwest, leading my own bands, backing up national touring acts and sharing the stage with the finest bluesmen the area has to offer, including vocalist Mark DuFresne, the late great guitarists Tom MacFarland and Isaac Scott and Northwest R&B icon little Bill Engelhart.  In 2008 I was honored to recieve the Jet City Blues Award for Outstanding Blues Guitarist.
In 2003 I recorded and released my CD Bankshot featuring all original blues and jazz.  The opening cut Catch My Drift was immediately placed in regular rotation on KPLU's mid-day jazz program, a rare occurance for a local artist.
Nowadays I perform regularly with the Chris Stevens Band.  We play classic, modern and original blues, as well as jazz and twangy surf guitar instrumentals. Visit to learn all about the band.  I'm also a member of Three Guitars, a Seattle "super group" featuring myself and fellow blues guitarists Brian Butler and Jack Cook.
Experience should be a key factor in choosing a good guitar teacher.  I've had literally hundreds of students over the years, dozens of whom have chosen to continue with me for five or more years.
It's my pleasure to share the diverse knowledge I've acquired learning, performing and teaching music.